The restaurant is located on the ridge of the dune and looks out over the sea.
Consisting of a single level beneath a large angled roof of traditional design, it is made up of three spaces that open up progressively to the surrounding landscape. The first of these spaces, largely closed off, hosts the kitchen. The second, glazed on three sides, is protected from the sun by the dense framework of the concrete structure and houses the air-conditioned restaurant. The third is completely open to the outside, including to the sky through a stripped-down roof structure, and hosts the outdoor restaurant.
The restaurant consists of:
– A kitchen and storage spaces
– A room for 80 diners
– A terrace for 40 diners
– Sanitary spaces.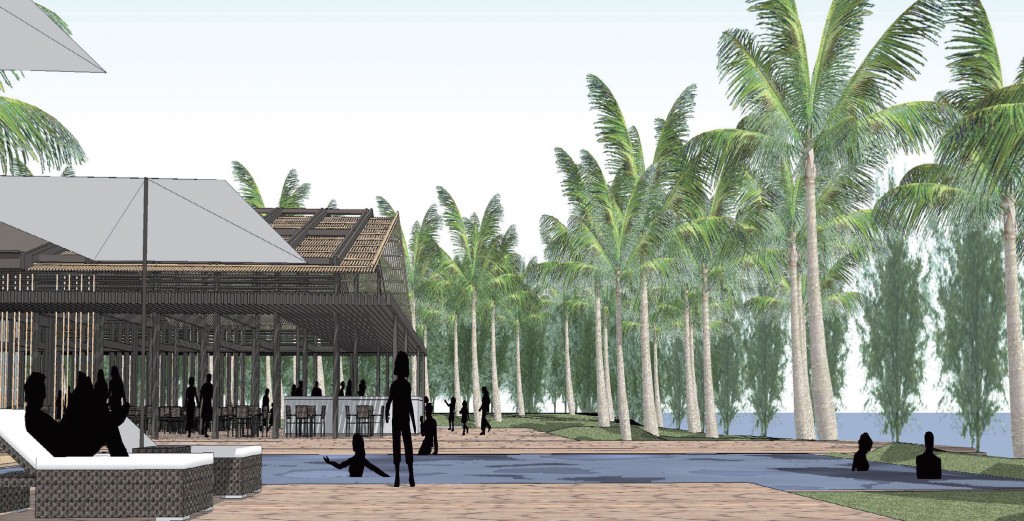 A terrace constructed out of harbour timber extends the restaurant to the crest of the dune and also connects it to the swimming pool.
The swimming pool, framed by the terrace on three sides, looks out onto the sea on the eastern side. Having a bar, a sheltered jacuzzi and a children's area, the swimming pool can be used with the restaurant in the evenings.
The swimming pool consists of:
– A 200m2 adult pool
– A shallow children's pool of 50m2
– A bar
– A jacuzzi and changing room